No matter what age you are or where you are from, the hilarious antics of Rowan Atkinson's Mr. Bean must have tickled your funny bone at some time or another in your life. Though the Mr. Bean character is extremely comic and childlike, Atkinson himself is a very different person in real life. He was a shy child, yet he grew up to be one of the most beloved comedians in the world. His unique ability to show humor using extreme facial expressions and body language won over international audiences by breaking language barriers. But, there is more to him than meets the eye, and here are some interesting facts about Rowan Atkinson that will change your idea of him forever.
1. Rowan Atkinson and Britain's ex-Prime Minister, Tony Blair, were schoolmates at Durham Choristers School.
When he joined the school, Atkinson was eleven years old and Tony Blair was two years his senior. According to the school's former headmaster, Canon John Grove, the two boys were quite opposite in their behavior. While Atkinson was shy and kept to himself, Blair was very outgoing and a model pupil who volunteered for everything.(source)
2. Rowan Atkinson has a Masters Degree in Electrical Engineering from Queen's College, Oxford.
After he received his undergraduate degree in electrical engineering, Atkinson continued studying for a master's of science in the same field at Queen's College, Oxford in 1975. His course of study was the same as his father who graduated from there in 1935. He was also made an Honorary Fellow in 2006.(source)
3. Atkinson suffers from a stammer, so he uses over-articulation, a technique to overcome problematic consonants, for the "B" sounds.
Atkinson turns his stutter problem into a comic device because he over-articulates the sound of "B" as he did when pronouncing the name "Bob" in the episode of Bells in Blackadder II. He had reportedly experienced trouble because of this problem while at school having conversations with his friends. This fatigued and stressed him out. He overcame his stutter as he started acting and stated that, "It comes and goes. I find when I play a character other than myself, the stammering disappears. That may have been some of the inspiration for pursuing the career I did."(1, 2)
4. Rowan Atkinson co-created and co-wrote Mr. Bean, the British sitcom for which he is so famous, while studying for his masters.
While in Oxford, Atkinson was asked during his first term to do a sketch that someone might show at the Oxford Playhouse. However, he did not consider himself a writer having never written anything before. He had only forty-eight hours to create something, and inspiration struck him in the form of a "strange, surreal and non-speaking character" as he stood in front of his mirror pulling faces. While at Oxford, he also met his co-writer, Richard Curtis, and composer, Howard Goodall, with whom he would collaborate many times throughout his career. He also received national attention in 1976 for his sketches in the Oxford Revue, a comedy group featuring Oxford students, at the Edinburgh Festival Fringe now considered the world's largest arts festival.(1, 2)
5. Though in the beginning of his career Atkinson appeared in several films and shows, he first rose to fame in the BBC comedy show Not the Nine O'Clock News.
Not the Nine O'Clock News was a satirical sketch and show about current news stories, pop culture, comedy sketches, and also contained parody songs, re-edited videos, and spoof television formats. It made use a lot of use of library clips, usually of politicians, royalty, and celebrities. It was aired on BBC2 as a comic alternative to BBC's Nine O'Clock News. The show also featured and helped launch the careers of three other comedians apart from Atkinson: Pamela Stephenson, Mel Smith, and Griff Rhys Jones.(1, 2)
6. Atkinson met his ex-wife, Sunetra Sastry, on the sets of Blackadder where she worked as a makeup artist and has two children with her, Ben and Lily.
Sunetra Sastry was Stephen Fry's makeup artist on the set of Blackadder in 1986. According to Fry, Atkinson one day asked him to swap makeup artists. When Fry asked if he didn't like his own makeup artist, Atkinson replied, "N-no, it's not that, she's splendid." In February 1990, Atkinson and Sastry married with Stephen Fry as the best man. Together they had two children, Ben and Lily, and were divorced in 2015 after twenty-five years of marriage.(1, 2)
7. The original name for Mr. Bean was "Mr. White". It was then changed to "Mr. Cauliflower" before settling on "Mr. Bean".
Mr. Bean's name was not decided upon until after the production of the first program. Before adopting the name "Mr. Bean", several other vegetable-based names were considered, but in the end, "Mr. Bean" was chosen. According to Atkinson, his character was inspired by a character named "Monsieur Hulot" who was created by a french comedian and director, Jacques Tati. Just like in the old silent films, the series completely depends on physical comedy making it easier to understand for people who don't speak English.(1, 2)
8. Despite being such a popular and much-loved comedy show, the Mr. Bean series has only fourteen episodes each being only twenty-five minutes long.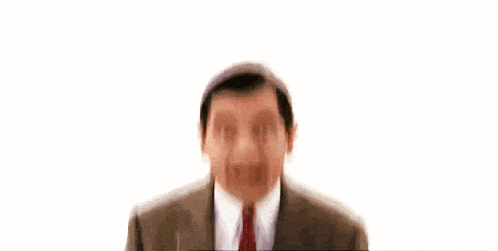 All the episodes of Mr. Bean were aired over a span of six years, between January 1, 1990, to November 15, 1995. Apart from the fourteen episodes, the series also had a bonus episode aired on December 15, 1995, called The Best Bits of Mr. Bean. It was a compilation episode in which Mr. Bean goes to his loft on a rainy day and reminisces his old adventures from previous episodes.(source)
9. Atkinson holds a category "C+E", formerly "Class 1", lorry driving license which he obtained in 1981 because of his fascination with lorries.
Apart from getting his license to drive a lorry, Atkinson also used his love for trucks in a very humorous song called "I Like Trucking" in his show Not the Nine O'Clock News. The song depicts him and his friends enthusiastically singing the song while keeping score of the number of hedgehogs he crushed under the tires while driving, and a car driver who gets tricked by their antics.(source)
10. Atkinson also played a supporting character in Sean Connery's James Bond movie Never Say Never Again (1983).
Atkinson played a character called "Nigel Small-Fawcett", a Foreign Office representative in the Bahamas. When James Bond reaches the Bahamas looking for the villain, Maximillian Largo, played by Klaus Maria Brandauer, Small-Fawcett informs him that Largo was heading for Nice, France.(source)

11. During his earliest appearances as Mr. Bean, Atkinson insisted on performing on a French-speaking program instead of English-speaking ones to see how his physical comedy would fare on international stage. The show, of course, became a huge success in 245 territories and received a number of international awards.
In 1987, one of Mr. Bean's earliest performances was held at the Just for Laughs comedy festival in Montreal, Canada. While there, Atkinson insisted on being scheduled to perform to a French-speaking audience rather than English-speaking ones. The festival coordinators could not understand why, but Atkinson's intent was to test his physical comedy to see how well it would work on non-English-speaking audiences. The series received a number of international awards including the Rose d'Or and even inspired an animated spin-off.(source)
12. Atkinson loves cars and racing. He owns many cars including a McLaren F1, Renault 5 GT Turbo, Austin Metro, Škoda Superb, Audi A8, and Honda Civic Hybrid.
Though he plays clumsy characters such as Mr. Bean and Johnny English, Atkinson himself is an avid car lover and races quite a lot. He participated in a racing event put on by the Aston Martin Owner's Club at the Croft Racing Circuit driving his Aston Martin V8 Zagato, which he crashed, but was unhurt. Though considered a collector, he stated that "I'm not a collector. I don't like the toy cupboard syndrome that causes so many good cars to evaporate." He also stated that he hates Porsche and that "I know I could never live with one."(1, 2)
13. Atkinson once saved a plane from crashing when the pilot fainted even though he never flew a plane before. He managed to keep the plane in the air until the pilot recovered.
In March 2001, Atkinson, his wife Sunetra, and their children Ben and Lily were travelling from the airstrip in Ukundu, Kenya, to Nairobi's Wilson Airport when the incident occurred. The pilot of the Cessna 202 aircraft fainted at the controls and the family could not revive him. So, Atkinson was forced to take control of the plane and was able to keep it flying saving himself and his family until the pilot recovered later. The pilot was then able to make a safe landing at the airport.(source)
14. In 2005, Atkinson led a group of prominent actors and writers including Stephen Fry and Ian McEwan, opposing the Racial and Religious Hatred Bill, arguing it would give overwhelming power to religious groups and undermines freedom of speech.
Atkinson is critical when it comes to religion and always sought to stand up against laws that could restrict freedom of expression. Apart from opposing the controversial Racial and Religious Hatred Bill, he also supported freedom of speech for homosexuals and voiced his support for the Reform Section 5 Campaign which aims to reform or repeal laws that state an insult can be grounds for arrest.(source)
15. During an episode of Top Gear, Atkinson drove a Kia Cee'd around the track in 1:42.2 lap time, setting a record on the show.
In July 2011, Atkinson appeared as the "Star in a Reasonably Priced Car" on Top Gear. Though he was nervous at first, he topped the leaderboard driving a Kia Cee'd and rounded the track in just 1:42:2. The next year in February, his record was beaten by Matt LeBlanc, who later became the host of the show, by a difference of 0.1 seconds.(source)

16. Atkinson crashed his McLaren F1 twice and claimed £910,000 insurance for its repair, the highest ever recorded in Britain.
Atkinson bought his McLaren F1 in 1997 for around £540,000. After crashing the car into a hedge in Oxfordshire in 2011, he claimed £910,000 insurance for it. Unlike cars that have seen much use and damage, Atkinson's McLaren F1 had seen a continued increase in its price after he put it up for sale for £8 million. According to specialist car dealer company, Taylor and Crawley, the car was sold for an undisclosed amount to a "British buyer who will drive it like Rowan did."(1, 2)
17. He was awarded the CBE (Commander of the Order of the British Empire) in the 2013 Queen's Birthday Honours List for his services to drama and charity.
As Johnny English, Atkinson already had several encounters with the fictional version of Queen Elizabeth II, always by accident, once even hitting her with a tray while fighting with a ninja pretending to be the Queen. While meeting the real Queen in real life, he chose much less eventful circumstances as he left after the ceremony without talking to the press. His friend and co-star from Blackadder, Tony Robinson, also received a knighthood for his public and political services during the ceremony.(1, 2)
18. During his prolific acting career, Atkinson earned a significant amount of money. His current net worth is about £85 million (approximately $130 million).
Atkinson's net worth proves how successful an actor he is, considering he doesn't have a very long list of filmography. Mr. Bean and Johnny English are his highest earning works with a total gross income of $618 million at the box office. In the recent years, he received $16 million from his company Hindmeck. He also received more income in the form of his McLaren F1's sale at a market value of $12 million. He also owns several properties in London and other countries.(source)
19. In 2013, he celebrated the 25th anniversary of Mr. Bean by riding his iconic mini around the Buckingham Palace in London.
The 25th-anniversary sketch is similar to one of his previous episodes called Do-It-Yourself Mr Bean. In a similar fashion, as he did in that episode, Atkinson, sixty years old by then, went to enjoy the sights around the Buckingham Palace as Mr. Bean on his iconic car, a 1976 British Leyland Mini 1000. All of Mr. Bean's possessions were packed into the car and his chair tied to the roof. He was accompanied by his favorite precious Teddy and posed with a celebratory cake for the fans who had gathered around.(source)
Also see: 15 Celebrities And Their Mind Blowing Historical Doppelgangers!