16. Michael Jackson wanted to do a Harry Potter musical. But, J. K. Rowling turned down the idea. 
J. K. Rowling, the author of Harry Potter series, has told in an interview with Oprah Winfrey that Michael Jackson wanted to do a Harry Potter musical. But she said no as she did so for many other such proposals. She said she was happy with the films, the books, and the theme park that was built based on the world of Harry Potter. (source)
17. The moonwalk had already been done, 50 years before Michael Jackson performed it, by artists such as James Brown, Dick Van Dyke, and Cab Calloway.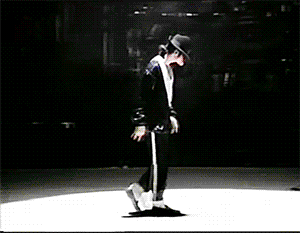 The moonwalk was popularized by Michael Jackson when he first performed it for "Billie Jean" on Motown 25: Yesterday, Today, Forever on March 25, 1983. Yet, the dance move dates as far back as to 1932 when it was performed by Cab Calloway, who said the move was called "The Buzz". Since then, several other dancers and artists used the move in their choreography. (source)
18. When Weird Al Yankovic made his video parody of Michael Jackson's "Bad", whcih was "Fat" in the parody, Jackson allowed him to use the set that was created for his film "Moonwalker" free of charge. 
"Fat" is one of the two parodies Yankovic made of Jackson's songs, the other being "Eat It", a parody of "Beat It". Just like in the video of "Bad", the protagonist is taunted by other thugs, in this case, to eat unhealthy junk food like pizzas, burgers and ding dongs. The video even won a Grammy Award for Best Concept Music Video in 1988. (1, 2)
19. On 9/11, Michael Jackson had a meeting at the WTC, but missed because he overslept. 
Michael Jackson's brother, Jermaine Jackson, has told that Michael was due for a meeting in the World Trade Center on the day of the terrorist attack. He was in New York at that time for a special concert at Madison Square Garden. Apparently, he missed the appointment because he overslept that day to the relief of his brother. (source)
20. Though he wasn't credited for contractual reasons, Michael Jackson wrote the song "Do the Bartman" from the popular animated TV show The Simpsons. He also voiced the mental patient character Leon Kompowsky in the show and was credited under a pseudonym. 
Apart from writing the song "Do the Bartman", Jackson also gave background vocals for it. The song topped the charts of Australia, Ireland, New Zealand, Norway, and the United States, and was among the top 10 in Sweden and Netherlands. He also guest-starred in other episodes including "Happy Birthday Lisa", for which he wrote a song as well, and "Stark Raving Dad", in which he voiced the character Leon Kompowsky who impersonates Jackson's voice. (1, 2)