The Avengers released in 2012 is every Superhero junkie's dream come true. The Marvel's ensemble had everyone's favorites. They had Ironman, Captain America, Hulk, Black Widow, Hawkeye and the God Thor. The great team had a formidable enemy in Loki. The movie opened to an amazing response. It set the cash office registers tingling. Here are 24 facts about The Avengers collected from IMDB that shows why it became the highest grossing Disney movie of all time.
1. It surpassed The Dark Knight (2008)'s record of $1,001,921,825 to become the highest-grossing comic book film of all time.
2. Edward Norton was not cast as Hulk in The Avengers because Marvel considered Norton not creative enough and  that he lacked 'collaborative spirit' that the other Avengers cast had.
3. Robert Downey Jr. kept food hidden all over the lab set and apparently, nobody could find where it was, so they just let him continue doing it. In the movie, that's his actual food he's offering and when he was eating, it wasn't scripted. He was just hungry.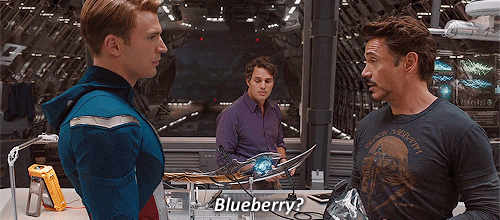 4.  In the Avengers, Marvel couldn't get the Hulks roar to sound just right; so they decided to supplement it with recordings of good old Lou Ferrigno bellowing as the original Hulk.
Lou Ferrigno contributed to the voice of the Hulk in this film. He has played the Hulk in almost every live-action version since 1978: he played the Hulk in The Incredible Hulk(1978) and its subsequent three TV specials, and he voiced the Hulk in the big-screen The Incredible Hulk (2008) in which he also played "security guard" – he also played a security guard in Hulk (2003). He also has voiced the Hulk in various animated productions.
5. Tom Hiddleston, who plays Loki in the Avengers, screen tested for the role of Thor. He went on a strict diet and gained 50 pounds of muscle. They later decided he would be better for the role of Loki.
6. The tagline on the Japanese poster for The Avengers translates to "Hey Japan, this is a movie." It evoked strong reactions in Japan.
Apparently, the film's tagline in Japanese evoked mixed reactions from noted Japanese novelist Toshihiko Yahagi considered the tagline to be done in poor taste and deeply offensive. He was also angered by the fact that Captain America had proudly murdered several of his countrymen in the comics book. Columnist Takashi Odajima pointed out the unpleasantness of the tagline saying that it was like colonialists saying to native people, "Hey native people, this is culture." However, certain section felt that the movie should be judged on its merit and remained indifferent to the effects of the tagline. (source)