6. While planning his comeback in Las Vegas after child molestation case, Michael Jackson wanted to build a 50-foot robot replica of himself that would roam the desert shooting laser beams as part of an elaborate stage show. 
Michael Jackson reportedly was in discussions to have his gigantic robot replica built to roam the Las Vegas desert. At that time, he was also staying in the city and was considering it to be the right staging ground for his comeback after the child molestation cases in 2004. According to the claims, he wanted the robot to shoot laser beams so that it would be the first thing people see when flying. (source)
7. Michael Jackson worked on the music for Sonic the Hedgehog 3, but his involvement in the game was terminated because of sexual abuse allegations. However, some samples of his music made before the allegations still remain and Jackson chose not to be credited. 
Though, the senior staff member of the company that made Sonic 3, SEGA, stated that any involvement of Jackson was done without their knowledge and that any similarities with his music were unintentional, since no contracts or agreements were ever made with him. It is also said that Jackson didn't want to be credited because he was unhappy with the sound capabilities of Genesis. (source)
8. Michael Jackson's signature "anti-gravity lean" was made using a special pair of boots which Jackson himself helped design and patent.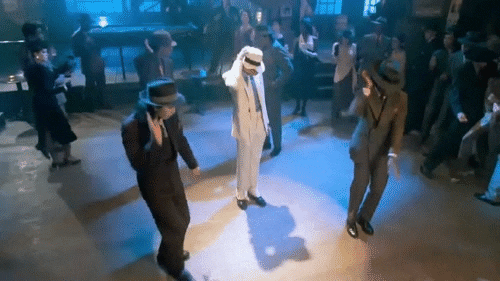 For the video of "Smooth Criminal" in 1987, Michael Jackson devised a dance routine which included him leaning forward 45 degrees, apparently defying gravity. The step was, in fact, achieved by using wires during the filming. But, Jackson wanted to recreate the step on stage during live performance of the song. So, he along with two other co-inventors, created shoes that would allow him to stay hooked to the stage when he leaned forward. A slot in the heel engaged a peg which could be raised and protruded through the stage floor when activated keeping him fixed and then he could lean forward without losing the grip on the floor. (source)
9. Michael Jackson had a habit of giving people prank calls. He once fooled Russell Crowe by calling him with a gruff hotel manager's voice. Since then, whichever hotel Crowe would stay Jackson would call asking for him with funny voices. 
Russell Crowe revealed about Michael Jackson's prank calls during an interview with Graham Nortan. He said that Michael got into the habit of calling him wherever he was staying and that he would call the hotel using funny voices, even though they both have never met. When he told some of his friends about this who knew Michael, they told him that he does it all the time. (source)
10. When Michael Jackson filmed "They Don't Care About Us" in Rio, he was provided protection by local drug dealers. 
The government of Rio was quite against Jackson filming the song in the city because they didn't want the city's image damaged. But the court ruled that Jackson could come and film his video in the city. The drug dealers in the favela, slum within urban areas in Brazil, painted their letters on the soccer field where Jackson would land his helicopter. Fifty or so residents that Jackson hired for his protection were said to be provided by these drug dealers who controlled the favela. (source)