19. G. R. R. Martin agreed to the TV series adaptation of his books because Benioff and Weiss answered correctly when he asked "who is Jon Snow's mother".
After his agent's phone conversation with Benioff in January 2006, Martin sent him the first four books for reading. Benioff loved the book so much that he finished the first thousand-paged book in 36 hours. Along with Weiss, Benioff successfully managed to convince Martin in a course of five hour meeting and then pitched HBO to start the series.(source)
20. A typical Game of Thrones episode requires around 700 costumes and the show's costume department has over 100 people who work on them.
After designing the costumes, around ten members of the department are tasked with aging and wearing down the costumes to make them look authentic. This process is especially necessary for the commoner's clothes which are ragged, torn, muddy, stained and soaked in sweat. With the costumes of rich and nobility it wasn't a problem as they wore fresh new clothes.(source)
21. Maisie Williams wore 16 mm hand painted contact lenses for her blind scenes in season 6. For fight scenes she wore pin pricked lenses so that she wouldn't accidentally hurt someone.
Her character Arya is offered a cup of liquid by Jaqen H'ghar which blinds her as punishment for killing a man. The contact lenses gave Maisie trouble because she had naturally dry eyes. However, even with the pin pricks she sometimes ended up hitting her co-star, Faye Marsay, who plays the girl bent on turning Arya into "no one".(source)
22. No one was allowed to use the name Jon Snow during the entire filming of season 6 to keep his resurrection secret. Instead they referred to him as "LC" meaning "Lord Commander".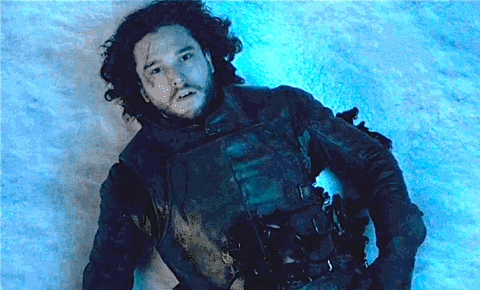 Season 5 sees Jon Snow backstabbed by some members of the Night's Watch. He gets stabbed to death and we see him die. After the season Kit Harington was told to lie to anyone who asked him about Jon's fate. Sophie Turner, thinking that was the end of his character, wrote a very long letter to him about how much she loved working with him.(source)
23. In the scene where Jon Snow arrives at Hardhome on a boat the script said "he loos like George Washington crossing the Delaware…but with much better hair".
According to an interview Kit Harington gave to Nylon, there were many other such funny things written in the script describing how the scene should look. Referring to the White Walkers, the script said, "These undead are running, god damnit, they're not fucking zombies."(source)
24. Ramsay Bolton was voted the "worst character on television" on The Atlantic, beating even Joffrey Baratheon.
When Joffrey became the king, everyone waited for the day he would die or things would at least change. His death was one of the most satisfying scenes for many fans of Game of Thrones to be only beaten by Ramsay's in season 6.(source)