13. The filmmakers used the mouth movements of actual animals instead of humans for the characters of Baloo, Kaa and Shere Khan.
14. CGI rendering for Baloo took almost five hours per frame because the character is so large and furry.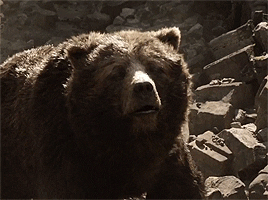 15. Mowgli's honey-collecting method is surprisingly accurate. Certain honey found in parts of Asia and the Mediterranean has intoxicating and hallucinatory effects when consumed. Mowgli and Baloo just may have been getting high.
As crazy as it may sound, hunting hallucinogenic "mad" honey is widespread in Nepal, India. Climbers strap themselves to strong vines and take multiple swings at the honeycombs until it breaks and gathers in their baskets. Mad honey contains a hallucinogenic substance and causes an immediate Absinthe-like effect of inebriation if taken in small doses. As someone on the interwebs ingeniously pointed out, was "hibernation" Baloo's code word for getting baked?(1,2)

16. The scene where Louie first shows his hand to Mowgli is an homage to Peter Jackson's 2005 movie King Kong, where Kong does the same thing upon meeting Ann Darrow.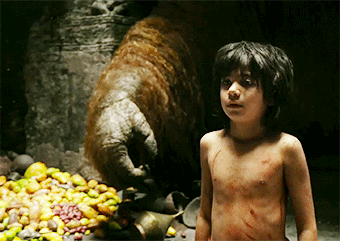 17. Mowgli finds a cowbell in the monkey palace, picks it up and shakes it, causing Louie to appear. Christopher Walken, who plays Louie, once famously stated on Saturday Night Live in 2000, "I have a fever, and the only prescription is more cowbell!"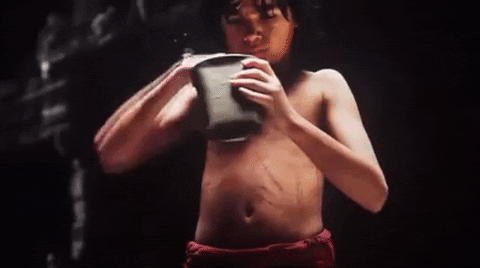 18. When all of the animals gather for the climactic confrontation with Shere Khan, a Wild Boar and an Indian Mongoose can be seen next to each other; a nod to Pumbaa the warthog and Timon the meerkat from the 1994 animated film The Lion King.